6 WAYS TO KEEP YOUR BICYCLE ROAD-READY
KATE WALKER • MAY 22, 2018
Whether you use your bike to commute year-round or are a dedicated weekend warrior, you need to know how to keep it in good shape. Getting into the habit of regular maintenance means avoiding the frustration that comes with a breakdown that could have easily been prevented.
With a few simple tips, you'll have everything that you need to keep your ride in good shape for the summer and beyond. Happy trails!
BOOK YOUR ANNUAL TUNE UP
When it comes to preventing future bike-related headaches, maintenance is key. Think of your annual tune up like a teeth cleaning at the dentist. They get into all of the nooks and crannies, setting the perfect stage for you to keep things going. Bike shops tend to book up quickly when the warmer weather hits so it's a good idea to plan ahead.
CHECK YOUR CHAIN
Your chain does a lot of work, so give it the love that it deserves. First, take an old toothbrush and give it a go-over to knock out any trapped debris. Next, take a soft rag and dampen it with lubricant. Make sure that you get the entire chain covered before wiping off any excess. Get into the habit of making chain checks a part of your regular routine and you'll save yourself plenty of maintenance frustration.
INSPECT AND INFLATE YOUR TIRES
Not only are poorly inflated tires bad for your wheels, they can make riding a lot harder. If you only do one thing every time you take your bike out, make it a tire check. Depending on how often you're riding, you might find that you need to inflate your tires more often than you'd expect. Just make sure to fill them to the right PSI which you can find on the side of the tire. Keep an eye out for worn down treads, cracks, or any other signs that things aren't right. Caught early, a tire problem can be a relatively easy (and inexpensive) fix.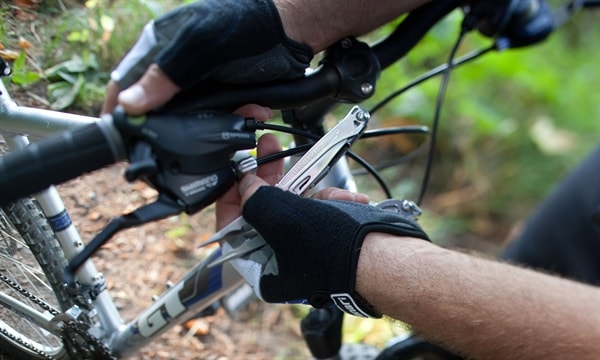 CLEAN YOUR FRAME
Whether you've had your bicycle in storage for the winter or rode it through the slush, salt, and snow for months on end, it probably needs a good scrubbing. Dust, grime, and dirt have the potential to cause damage to your paint and the frame itself. Exposure to the elements can cause your bike to wear out faster than it should so always dry it after it's been exposed to water and regularly give it a quick wipe-down to clear off any dust or road debris.
DO A BRAKE INSPECTION
Your brakes are what's standing between you and a painful accident so it's in your best interest to keep them in top condition. Give them a squeeze to make sure that they're responding and see how they're grabbing. They should be holding onto the metal rim of your bike's wheel, not the tire.
ASSEMBLE A TOOLKIT
Even with careful preparation and regular maintenance, things can and will go wrong with your bike. That's why you need to be prepared. A multi-tool like the Juice CS4 is perfect for handling all manner of roadside repair and a portable pump and patch kit are bound to come in handy too.
Du vil også like dette
You don't need to be preparing for a natural disaster to have a preparedness kit on you. With just

FAITH BRIGGS • NOVEMBER 14, 2018  When I first became a Leatherman Tool ambassador I wanted t

EVERYDAY KATE WALKER • OCTOBER 3, 2018   It's hard to argue that hitting the open road with