When I first became a Leatherman Tool ambassador I wanted to write my first blog, but I didn't know what to write.
Instead, I put my soon-to-be favorite new multi-tool into a tiny little zipper pouch that I carry with me everywhere. Inside is usually a half a stub of eyeliner, one tube of the remnants of mascara, a lip color (for special occasions) and an extra pair of earrings. All very classy. Now it is also the home to my Juice C2.
When I'm not adventuring in the outdoors, which I get to do both for work and for play, I live in Portland, Oregon and work at a non-profit called Soul River Inc. I love living in the city. I don't drive, I'm a Brooklyn transplant working on getting my drivers license for the first time, so I tend to always look like I'm in the middle of a big day—AKA, I'm a bag lady, I ride a lot of bikes, and every day is an adventure.
So here are a few stories from everyday adventures, made better by being equipped with a multi-tool.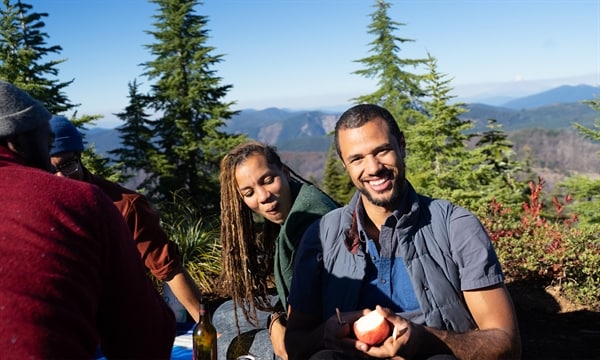 I'm a runner and recently helped organize an event where friends from a local running group, Stumprunners, collaborated with Outdoor Voices to do a super fun little run here in Portland. After a sweet jaunt into Forest Park as the sun set, we celebrated at the end with pizza and beer. One issue, the beer was bottled and no one had a bottle opener, except me! It's easy to meet a lot of folks at the party when you're one of the few people prepared to get the bottles popping.
That same weekend we hit the trails. My friends and I love getting out to hike when we are actually home in Portland, a rare occurrence for some of us. Early on a Sunday morning, we drove down toward Mount Jefferson to do a big day hike. Since I was the organizer, I wanted to surprise everyone with a fancy picnic. When re-distributing our stuff at the trailhead we had a brief to do about bringing up a whole jar of spicy brown mustard, in the end we all agreed that the mustard was worth it. (Hint: the mustard is always worth it!) At the summit, we spread out a blanket, made fancy sandwiches and I pulled a bottle of wine from my pack. Spoiler alert: I tend to have a bottle of wine in my pack. I handed over the magic weapon, we used the corkscrew and bam! Fancy picnic complete.
Don't worry, all of my stories aren't about opening beverages.
Earlier this week, my colleague and I established a to-do list after our morning meetings and set out on a few errands. We headed to the car and suddenly my girl's key broke off in her car door!!! My first thought was: panic mode, call AAA. Then we looked at it more closely.
She said, "I think if I had pliers or something…."
I interrupt, "Hold on!" and start digging into my bag.
Juice C2 to the rescue.  
From the daily more mundane stuff like opening packages, putting together easels for an event, or even just cleaning fingernails, to the more exciting tasks like gutting fish and slicing up apples while hiking, it's been pretty cool to be the one who is always prepared with a multi-tool for the task at hand.
Link to the original article on Leatherman.com.